The Organisation
Asom Sattra Mahasabha, is a registered socio-cultural organization that serves as the umbrella organization for the Sattra of Assam which aims at preserving and propagating the religious and socio-cultural teachings of Mahapurusha Srimanta Sankardeva. Since its inception in 1915, as Santa Sanmilani, Sattra Sangha in 1945 and Sattra Mahasabha in 1990, the organization has been ardently engaged in the development and spread of Sattriya Sanskriti (Culture).
In the words of Dr. Arshiya Sethi, "What makes the Asom Sattra Mahasabha a significant institution, is the fact that it emerged out of self reflection, to serve a specific self determined agenda. It is motivated by an idealist goal, seeks out governmental and non-governmental partners when necessary, and it works methodically through organizational practices".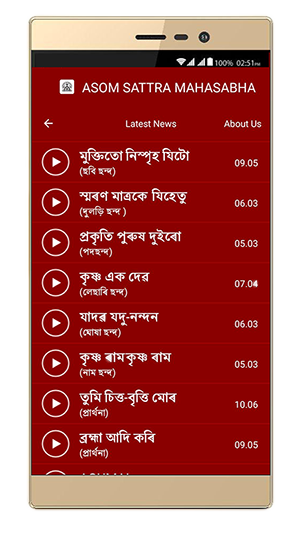 Mukti is an Audio App based on the great creation of Mahapurush Madhabdeva's "Naam-Ghosa".
The App which is conceptualised by Asom Sattra Mahasabha Delhi and created by Swarnagiri Press Delhi
is available on Google Play Store to download.
For more about Mahapurush Madhabdeva,
click here